Character Profile: Thistle
Thistle
Theme Song: "Beside You" by Marianas Trench
Instrumental Theme: "Miracles" by Two Steps From Hell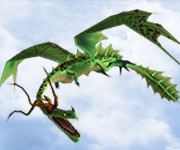 Species: Prickleboggle
Gender: Female
Height: 2 1/2 in. (at the withers)
Trainer: Norbert Haugen
Home: Berk
Speed: 3
Shot Limit: 12
Favorite Food: Mealworms
Favorite Island: Icestorm Island
Favorite Activities: Socializing, playing, helping others, and cleaning herself
Abilities: Can heal wounds, icy blast
Saddle: None; too small to ride
Appearance: General appearance of a Prickleboggle: green with brown spots and horns and a pale belly. She blends in well in grass, thicket, or forest. She is the normal size of a Prickleboggle, only slightly bigger than a male Fireworm. Her twisted horns are very sharp, and her scales are very cool to the touch.
Personality: Thistle is a sweetheart. She's an extremely peaceful creature, never looking for a fight, and is a loyal and friendly companion. Few dragons are more compassionate or protective. When danger strikes, she is cool under pressure, making her a valuable companion. She's also playful, making her a fun companion for children (like Norbert's little sister Munchy) and loves a bit of thrill-seeking (making her a perfect dragon for Norbert). And with any other dragon or human, Thistle is super social. However, she is a very vain and proud creature and is constantly concerned with her looks. She'll be miffed if anything dirty is splashed on her, which, given her small size, is easy to do. And due to her tiny size, she is downright sick of being ignored!
Strengths: Tough skin, high stealth, healing abilities, brave, loyal, friendly, compassionate, protective, level-headed
Flaws/Weaknesses: Slow, small size, proud, vain, not good at planning or plotting
Worst Fear: Being stepped on
Backstory: Norbert risked his and his dragon's lives to try and find a Prickleboggle to heal Whisper when she was deathly wounded. Frostclaws found Thistle by wounding himself, luring her out to heal him. Norbert and Frostclaws flew the little Prickleboggle through a storm to get her back to Berk on time. Frostclaws is very loyal to Thistle now, and Thistle sticks close to him. Before long, she considered herself part of Norbert's household and his family's dragons part of her flock. Eventually, due to how close they were, this flock included Whisper's family, too. Whenever they are injured, she will be there for them. In time, Norbert's mother Dollop comes to see the little Thistle as a symbol of the bond Whisper and Norbert share.
Bond Between Norbert and Thistle: Thistle was Frostclaws's companion first and foremost, but Norbert was the first person to touch her. He learns to befriend the little dragon with gentleness, and Thistle was won over by his obvious compassion for his friends, both Frostclaws and the absent human friend he was fretting over. This remains one of the things that draws her to him. She will snuggle with him at times and often remains perched on his shoulder, like a little loyal green fairy. Whenever Norbert and Frostclaws are out for a fun time, Thistle loves the thrill of it! When Norbert or Frostclaws is in danger, Thistle will risk life and limb for them. But while her relationship with Norbert it close, their communication isn't always the strongest. She's too small to really be disobedient of Norbert's commands; he can force her if she feels like disagreeing. But when Thistle has something she needs to communicate, Norbert tends to ignore her or blow her off, and she (understandably) finds this extremely annoying.